15
Jan
2012
In iOS
By Anthony
Scoreboard Semplice [iOS]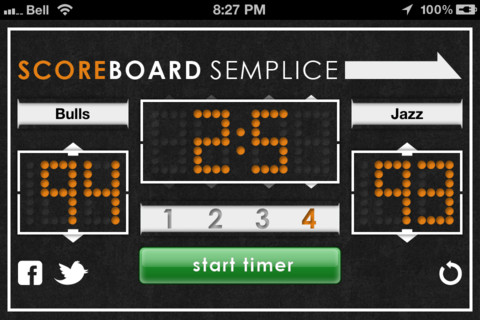 Scoreboard Semplice (for iOS) is a universal iOS Scoreboard app I created for all iOS5 iPads, iPhones, and iPod Touches.
Playing both basketball and outdoor football (soccer), I have often been frustrated by scorekeeping apps and decided to create my own. You can find Scoreboard Semplice at the iTunes app store. In the meantime please check out the current features below:
Easy editing feature by merely tapping the arrows on the bottom or top of each score or timer box digit.
Timer to the 10th of a second accuracy.
Keep track of period/quarter.
Edit Home and Away team names.
Easily and Quickly post your results to Facebook or Twitter.
Buzzer sound when the game ends.
Notification system so you are notified by buzzer and a pop-up when the game ends (even if the app is running in the background or if your device is sleeping)
If you have any questions or concerns please feel free to comment below. Thanks.