This is an interactive installation project created for The Confucious Insitute at Carleton University to help teach visitors about Taoism via hand interactions and simple Tai Chi movements. I created this current prototype in Unity using a Kinect2 to handle Kinect hand and body interactions. I also animated and modelled elements in Autodesk Maya while setting up an environment that looked to take place on Mount Hua in China.
To create an innovative and interactive marketing piece for the Ottawa Jazz Festival I designed and programmed a piece that would be visible during the day; but lit up and animated at the night for a more spectacular effect. Passers-by could interact with the piece by using special hashtags directed to the OttawaJazz Twitter account during the festival.
Made in collaboration with Henri Kuschkowitz of Luminartists; whom was able to construct the physical structure.
Programmed using C++ and OpenGL with Cinder Frameworks.
Borne from a unique three month workspace residency at Invest Ottawa, in collaboration with the City of Ottawa, Algonquin College, and Artengine, this interactive physical installation represents the products of our design research in the business incubator space pointing to three main themes – energy, collaboration, and communication.
A piece initially developed with the aim of determining how the usability of the Leap Motion device is affected when controlling a virtual marionette, it was picked up by the Cinekid Children's Festival in Amsterdam as a new media exhibit.
"The Philosopher Cube" was a project that I was commissioned to do for Ottawa's 2010 Electric Fields Festival in November. The creative director, Ryan Stec, and Algonquin College Research supervisor James Acres asked that I create a large projection that could be interacted with using cell-phones. After some daydreaming and some early prototypes I arrived at the concept of an Alien Cube floating in front of Ottawa's Rideau Centre, asking passers-by questions such as "what is love?" or "what is war?"
Please visit my post on this project for more information.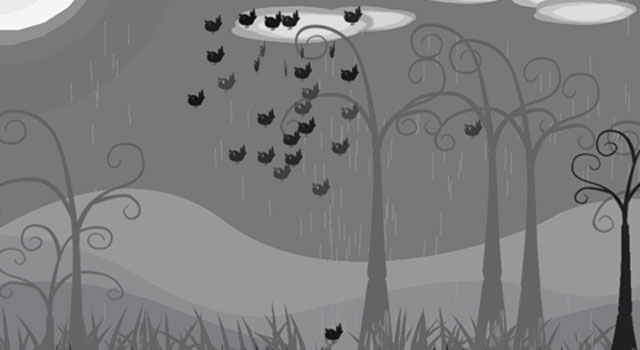 The Interactive Forest was an interactive installation that I acted as lead programmer and designer for.
This installation, built with OpenFrameworks (C++ and OpenGL), uses web cameras to track participants' motions and translate their movements into virtual wind to deform a virtual forest environment. We used verlet physics, camera-tracking, and some some clever tricks to create an environment whose rainy weather can be controlled to grow trees, or ignored to destroy them.
An enjoyable OpenFrameworks project that can further learned about in this blog post.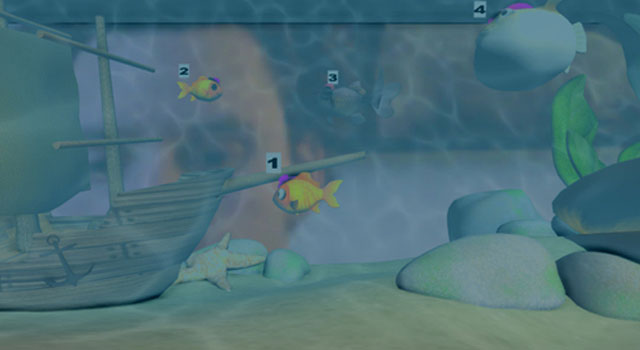 The Aquaroom is a complex interactive installation that I acted as lead programmer and architect for with 3 others.
Using Cinder Frameworks (C++ and OpenGL) we created a large virtual aquarium environment with fish that could be interacted with using basic text-messaging and camera feature detection. The concept of this installation was to create a large aquarium and small aquarium that were in sync with one another to give participants two different perspectives: one as a fish, and the other as a "pesky" human.
The environment is completely 3D and built from the ground-up using OpenGL and extensive shaders (for shadow-mapping, ambient occlusion, textures, lighting etc …). Form more information on this project please visit this prior blog post.
This was an interactive project for an Ottawa cellists performance; as well as a VJ performance at a local Ottawa bar.
Using Openframeworks (C++ and OpenGL) I created a large-projection piece that would react to the beat of the music being played. Much of the special effects are created using several particle systems and OpenGL effects. A PS3 camera and the OpenCV framework was used to track this motion and guide the particles on the screen.
For more information please visit the blog post.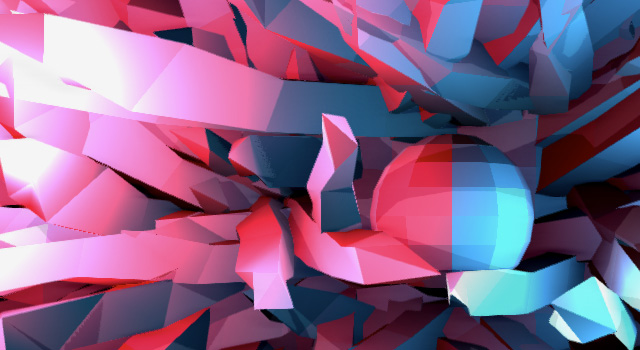 An interactive art project that encouraged participants to stand on a pedestal in front of the piece to create a perspective shift on screen that symbolizes the blinding of ourselves from the world around us through extreme technology use and materialism.