A piece initially developed with the aim of determining how the usability of the Leap Motion device is affected when controlling a virtual marionette, it was picked up by the Cinekid Children's Festival in Amsterdam as a new media exhibit.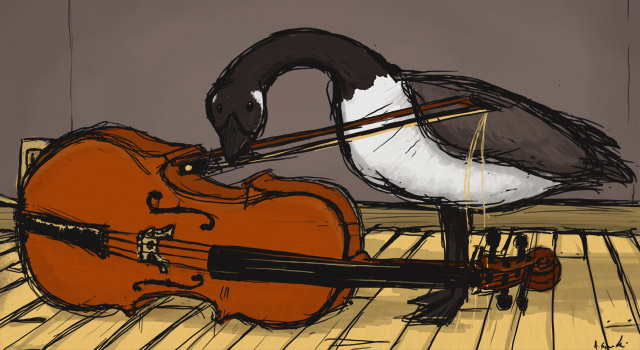 Created using several photographs of geese and my own cello for reference. I purposely experimented with a very loose style as I felt it may lend some energy to an otherwise seemingly stoic pose. I was hoping to create a natural clash between the perceived traditionalism associated with classical music and the energy that emanates from many of classical music's greatest performers.
Tools Used:
– Adobe Photoshop
– Wacom Tablet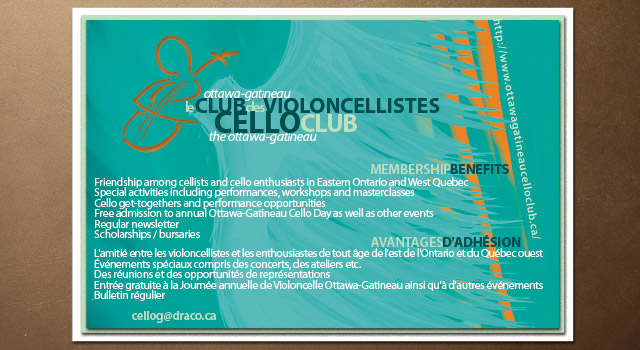 For this piece I was asked to create a small colour mailing card that would carry all the club's information in both languages. I chose to use lighter colours as to not make the club intimidating, particularly to beginners, and a loose "painted" style to portray the expressive power of the cello. The more direct orange is to radiate energy; and I chose to use simpler sans-serif fonts to make the piece more modern. I also created the illustrative logo to further represent these ideals.
Tools Used:
– Corel Painter X
– Adobe Photoshop
– Adobe Illustrator
– Wacom Tablet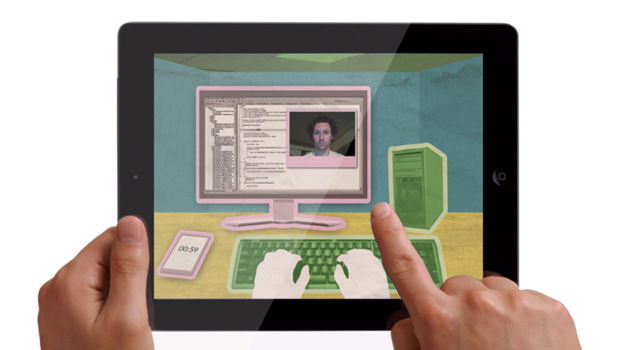 Currently I am working on an iPad "game" concept that explores the relationships we build between ourselves and machines, as a juxtaposition to our relationships between each other.
Created first prototype using Apple's Objective-C and Cocoa frameworks; but now using Unity3D.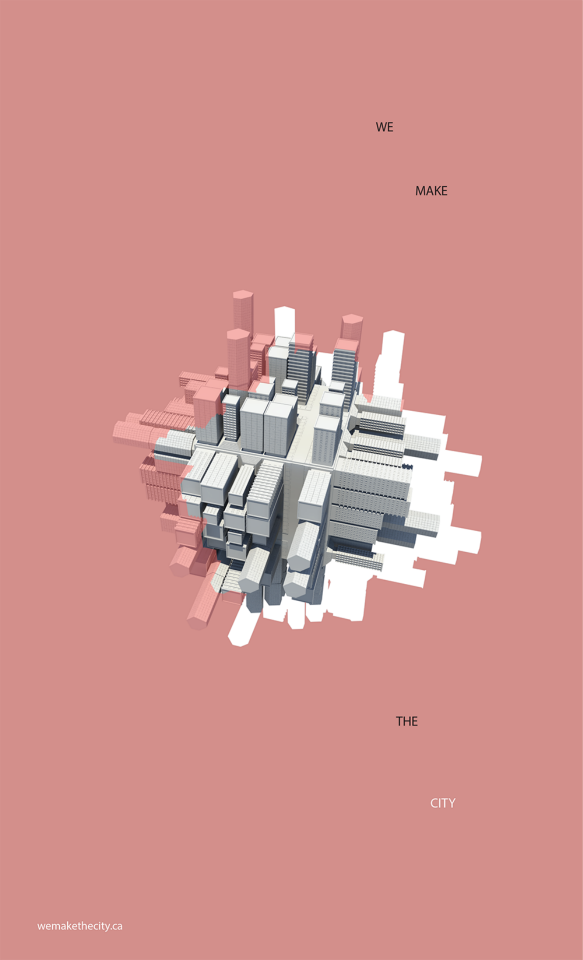 For this poster design a simple aesthetic was chosen to keep the focus on the unusual city form, keeping in line with the "we make the city" theme of the festival. The city model was created using a procedural Maya script I created previously.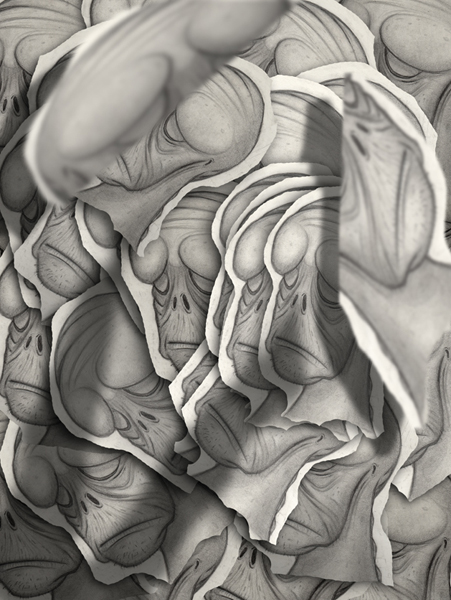 For this piece I wanted to comment on much of the controversy that surrounds gene therapy. I first drew a humanoid character to represent a "future self" and "cloned" many copies to portray everyone wanting to be the "perfect" human. Scissors can be seen in shadow cutting any that are "imperfect".
Tools: Pencil drawing brought into Photoshop and cloned and processed several times.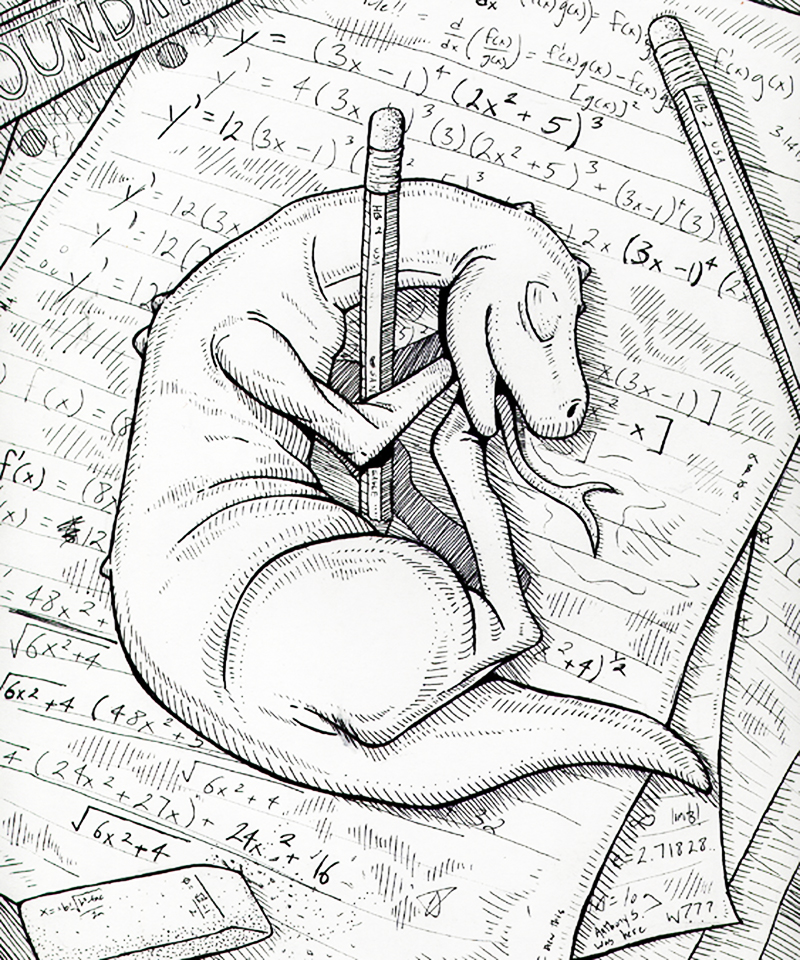 This evolved as a fun piece I quickly sketched out. After created the basic outlines I then went over the sketch with a regular black felt pen trying to keep interesting line shadows and detail. I was inspired by some old 70's posters and comic book styles that used similar line art styles.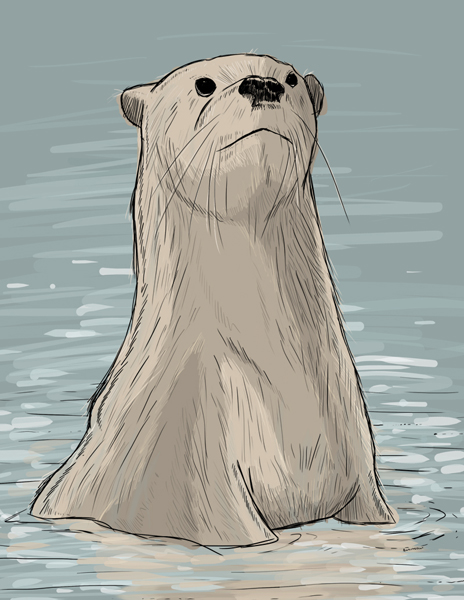 Created using a photo as reference. I tried to mimic an older style, in Photoshop, where minimal colours and strokes were used. I enjoyed how the water turned out (and the piece in general).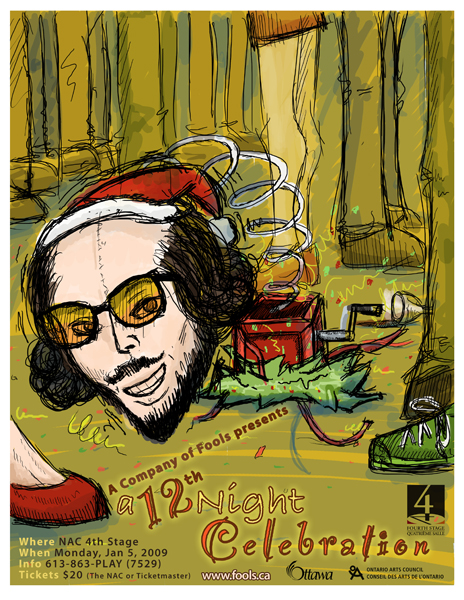 This was a print poster design for one of Ottawa theatre group's annual fundraiser's at the NAC. I chose to be more whimsical in its design to better represent the more humour based theatre the company is best known for, as well as the event's more light-hearted nature.
Created with Adobe Photoshop and Corel Painter.