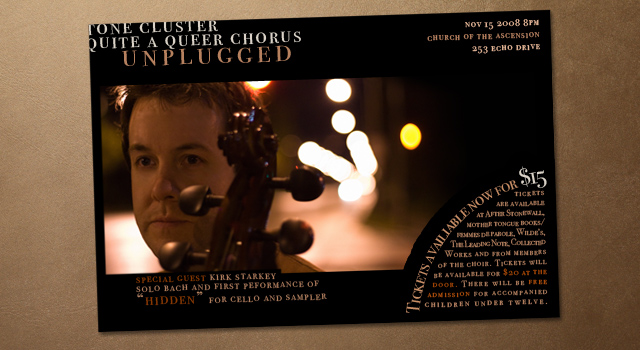 Cello Concert Handout
A local cellist was to premiere a newly composed cello piece and asked me to create a handout he could pass around to advertise the show.
After a short photography shoot I had with him I decided to go with a dark theme to match the darker tone of the cello and his music style. With wisps of urban orange I felt this would best sum up his work.
This was a small advertisement for a cello concert and premiere of a new piece by a cellist. It was meant to be small advertisement that could be placed in studios and windows. I started off by taking some pictures of the cellist in an urban setting to give a dark and unique feel. After selecting one of the better pictures I framed the piece with some serif fonts and printing over the boundaries to attempt to break free from the classical music stereotype that this cellist was trying to shed.
Tools Used:
– Rebel XT DSLR
– Adobe Photoshop
– Adobe Illustrator