The Philosopher Cube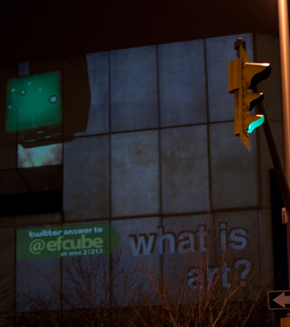 "The Philosopher Cube" was a project that I was commissioned to do for Ottawa's 2010 Electric Fields Festival in November. The creative director, Ryan Stec, and my Algonquin College Research supervisor James Acres asked that I create a large projection that could be interacted with using cell-phones. After some daydreaming and some early sketching I arrived at the concept of an Alien Cube floating in front of Ottawa's Rideau Centre asking passers-by questions of thought about the human race such as "what is love?" or "what is war?"
It was an exciting project that had me switching from using OpenFrameworks to Cinder Frameworks for development as I could really appreciate the intuitive organization and powerful OpenGL wrapping functions in Cinder. I wrote an entire post about the project and the process of how it came to be, as well as all source code, on Artengine's blog site here:
The Philosopher Cube – A Post-Mortem
The project was also fortunate enough to have been covered by several media outlets such as the Globe and Mail and CBC Radio. The links to the online sources are listed below if interested. A great experience that I hope will lead to many more installation projects in the future! So many interesting facets to consider when creating an area piece ( this one required design, 3D modelling and animation, C++ and OpenGL programming, and projection mapping just to name a few … ) –  a true renaissance artist (hopefully)! Many thanks to all those that helped me along the way.
Special Thanks to:
James Acres, my supervisor and the coordinator for the BIT-IMD program who helped with some great suggestions.
Ryan Stec and Artengine for their advice and sponsoring of this project for their Electric Fields Festival 2010
Algonquin College Research for their sponsoring and support
Rideau centre for graciously allowing us to project on their walls
Leanne L'hirondelle from gallery 101 for letting us borrow their massive projector
Cinder Frameworks and their developers for their great help ( especially developer Andrew Bell for his help with the shadow mapping )
Grant Lucas for his help with the Twitter and SMS Shell Scripts
David Hall at Algonquin College for getting the word out
My school project peers for their patience while I worked on this and group projects
My friends for coming out on November 4th to not just celebrate The Philosopher Cube's premiere but also my birthday
The Open-Source Movement that makes projects like this possible
My fiancee for her patience as I pretty much was stuck in front of a computer for a month or so straight at the end.
Further Information on The Philosopher Cube Project
CBC Radio's "All in a Day" Artist Interview ( November 4th, 2010 )